What is it about wine that attracts so many celebrities?

Many celebrities from different areas of show-business or sports have decided to invest in the wine sector. Actors, sportsmen, singers, bullfighters, designers, journalists... they all have in common the success they have achieved (and in some cases continue to achieve) in their respective activities.

At some point in their careers, sometimes surprisingly because there is no family connection or tradition, they have sought to enter the world of wine. Some have simply invested by acquiring shares in wineries, while others have taken a bigger gamble by deciding to make their own wine. The involvement of the person in question is undoubtedly greater in the second case.


Bodega Iniesta

One of the best known and most recent cases in which the celebrity in question is more involved is the Bodega Iniesta, owned by the player Andrés Iniesta. Making his own wine was a family dream that goes back years, back in the 1990s the player's father planted ten hectares of vineyards. This dream was fulfilled in 2010, when the construction of his winery was completed and the first wines from his vines were produced.

The winery is located in Albacete, in the estate "El Carril" which has 120 hectares of vineyards and is protected under the DO Manchuela. Its privileged location between the Meseta and the Mediterranean means that it enjoys perfect conditions for growing grapes thanks, among other factors, to the temperature contrasts between day and night.

Andrés has not missed the opportunity to give bottles from his winery to his fellow club members and members of the national team in order to make his wine known to them.


Roberto Verino Red Wine

One of the celebrities who has been involved in the world of wine for the longest time is Roberto Verino. In the early nineties he decided to invest in the construction of a winery in his homeland, Galicia. What began as a simple investment has become a passion for the designer.

The Gargalo winery is located at the foot of the castle of Monterrei and has 8 hectares of vineyards. Its wines are mainly distributed in Spain, although approximately 20% of its production is destined for foreign trade.


A10 red wine, Cabernet Sauvignon, Merlot and Tempranillo of Antonio Banderas

Antonio Banderas has also become heavily involved in this sector by buying 50% of the Anta winery in 2009, at which point it was renamed the Anta Banderas winery. It is located in Villalba del Duero, Burgos, in the heart of the Ribera del Duero and has 235 hectares of vineyards spread over two estates.



Among its wines we can highlight the a10 red wine, made from a combination of Cabernet Sauvignon, Merlot and Tempranillo grapes and aged in French oak barrels for twelve months. The actor from Malaga, taking advantage of his fame in the United States, has promoted his bodega's wines on more than one occasion, with the result that a large part of his exports are destined for the American market.


Wine of Julio Iglesias

We now change thirds and move to the world of singers. The singer's passion for the world of wine goes back years, Julio Iglesias fell in love with wine when he tasted a Chateau Lafite '61 vintage. In the 70s and 80s his love grew, and he got a good collection of bottles, although he says that "it bothers me to pay more than 50 dollars for a bottle».

In 2000, he went from being a consumer to becoming a producer and accepted a proposal from the Montecristo winery to become a partner in the winery. Located in Ribera del Duero, the winery aims to produce between 250,000 and 300,000 bottles a year. Its partners also include other well-known faces such as Pedro J. Ramírez. Julio Iglesias admits that whenever his schedule allows, he takes the opportunity to attend the tastings held at the winery to taste the wines and check their evolution.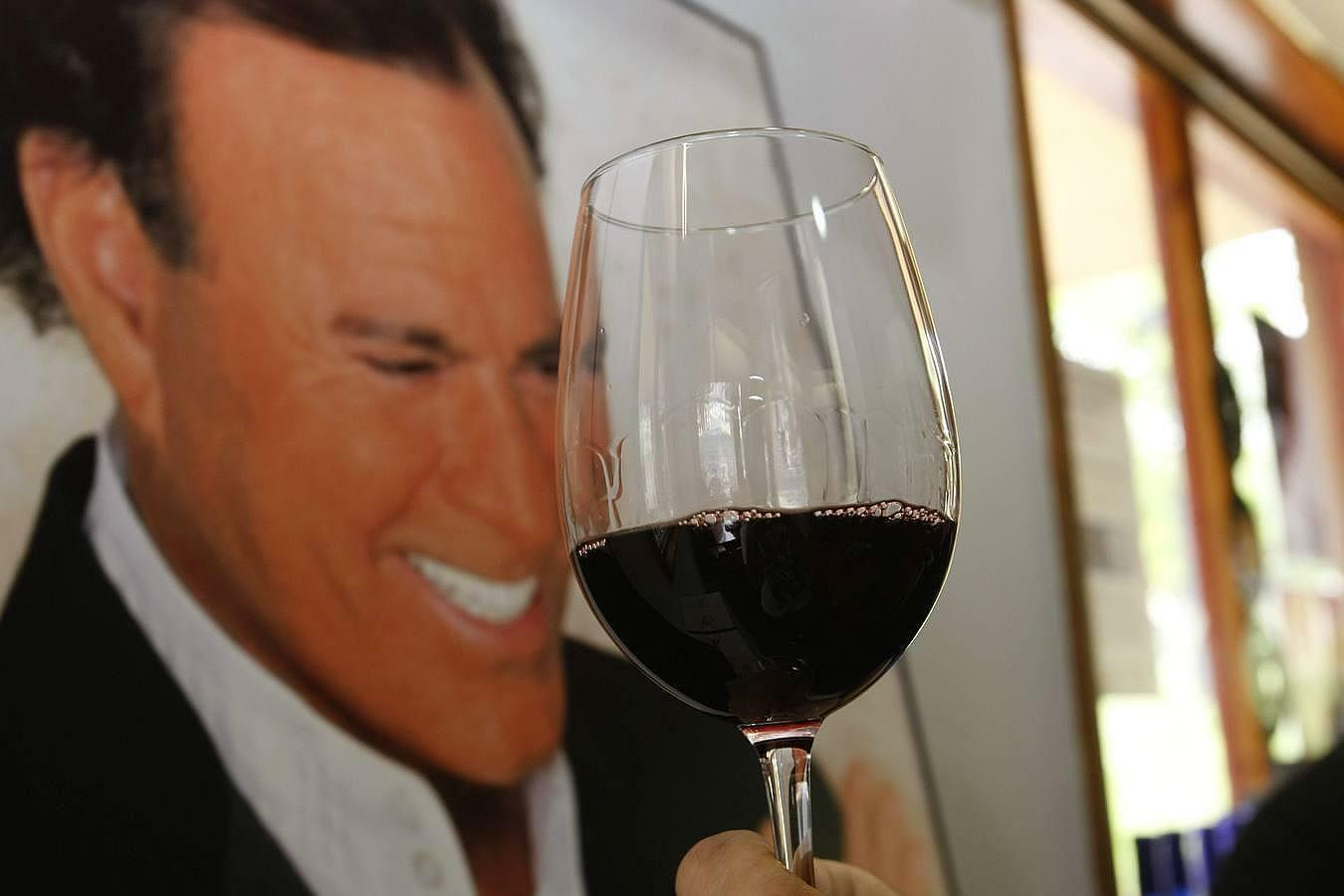 Other celebrities who involved in winery holdings

Many other celebrities are involved in winery holdings, including Imanol Arias (Cepa 21), Emilio Aragón (Martúe in La Guardia, Toledo), Bertín Osborne, who certainly does not lack a winemaking surname, owns the Conde del Donanio winery, Fran Rivera (Liba y deleite), Joan Manuel Serrat (Mas Perinet).

On the international scene, it seems that it is also fashionable to invest in wine and well-known celebrities such as Angelina Jolie, Brad Pitt, David Beckham and one of the most involved in winemaking is the actor Gerard Depardieu, who has a real passion for oenology and counts among his friends experts of the highest level.


Interesting facts about the famous footballers' winery

One of the initiatives that attracted the most well-known faces was the 14 vineyards project to build a winery and distribute their own wines. Led by ex-footballer Manolo Sanchís, it was joined by many footballers from the Quinta del Buitre, Butragueño, Michel, Martín Vázquez and other well-known faces from other fields such as Miguél Bose.

The project began with great enthusiasm, Casalobos was the name of the wine. In 2009, they were forced to file for voluntary bankruptcy due to a debt of five million euros.


Will this trend and this link between celebrities and wine grow?

It is difficult to say. It is very nice to be part owner of an oenological project and to be able to enjoy it, from the relationship with the land to the work in the winery. The most successful cases are those where, beyond the idea of "having a winery", the person involved has a real passion for wine and its culture.

As in any other project, it is not only money that makes it possible to achieve goals. There must be a real project, born out of illusion. The coming years will tell us whether more or less famous people decide to invest in the production of quality wines. Let's hope that, in any case, if they decide to do so, they make stunning wines, which we will be sure to tell you about.


Wine tours with tastings of Spain's delicious wines, which may include celebrity wines

Perhaps you would like to know more about our wine tours with tastings of some of Spain's delicious wines, which may include celebrity wines. Leave your enquiry in the form on the website, and we will get back to you as soon as possible.