Spain is famous for its wines. Catalonia is one of the regions where winemaking has been going on for thousands of years. Its geographical location and mild Mediterranean climate, combined with its centuries-old tradition, are the basis for producing the highest quality wines.


Wineries as the main attraction of Penedes

The Penedes area is only 30 minutes away from Barcelona and is unique in its rural landscape with endless vineyards. There are big, world-famous wineries like Torres and small, family-run wineries that we invite you to visit.

We also invite lovers of good wine to visit the wine cellars of Penedes. We organise private tours and tastings for 1, 2 or more people if you are going on a family tour. Request a private tour programme now.

You can also visit Jean Leon's winery and learn the fantastic story of how a young man from the Spanish countryside grew into a renowned wine producer. In fact, it was his wines that Ronald Reagan ordered for his inauguration as President.

On our wine tour you will not only learn about the technology of wine and cava production but also taste some of them.


Top 3 varieties of cava in Penedes

Tresor Rosé: Barcelona's most titled wine, 100% of its composition is a rare Trepat red grape variety that only grows in Spain. Tresor Brut Reserva is a true treasure, an elegant blend of the three traditional cava grapes of Charello, Macabeo and Parellada. A classic Catalan wine, produced in the best traditions.

Brut Reserva Cupatge D´Honor Vintage 2011: a blend of Charello and Chardonnay, a refined, dense and harmonious aroma and taste of a mature wine.


Wine Cellars of Penedes: useful information

This tour can be combined with a guided tour to Montserrat or any other excursion. Or you can make it a separate tour and visit several wineries.


Catalan wine Sumarroca: wine innovators

Catalan wine is appreciated by many. Catalonia is widely known for its wineries. But "the best known" often does not mean "the best". "Sumarroca is a unique winery in central Catalonia.

It is a classic family winery, with all the family members involved in the harvesting of the Penedès expanse. There are no well-trodden tourist trails. The doors, however, are always open for true wine connoisseurs and those who wish to discover the real flavour of winemaking.

Josep Puig Subirana, director general of the Sumarroca winery, took us through the history of the farm. He also gave an unforgettable tour of the unique bodegas and historical cellars, as well as the sparkling wine factory.


History of the Sumarroca winery

How did it all begin? In 1982, Señor Carles Sumarroca and his wife Nuria purchased the 36 hectare Moli Coloma estate in Subiratx and the 25 hectare Eretat Sabartes estate in Banyeres del Penedès. Seventeen years later, in 1999, they bought another farm formerly owned by Marques Monistrol. Sumarroca now has an area of 465 hectares and is the largest in Penedes.


Sumarroca is a family enterprise. What does this mean in practice?

The Sumarroca winery is, above all, an excellent team of professional winemakers and innovators, combining tradition and innovation in wine-making to produce exceptional wines.

The whole family works in the vineyard and in the winery. Even Señor Sumarocca, now 82, gets in his car almost every morning, drives around the vineyards, talking to the workers. Each bottle passes through the hands of all the family members.


Sumarroca is pioneering winemakers

The owners of the winery are always experimenting with micro-fermentation, fermentation methods, wine variety combinations, and many other things. Every year they produce test batches, and what they like has a chance to become a new Catalan wine. And what about their unique project, the Vineyard of the World.


What kind of project is the Vineyard of the World?

That is the name of the unprecedented research project that Sumarroca is implementing at the winery. Some 400 varieties of grapes from all over the world have been planted in an experimental vineyard. The idea for the project belonged to Señor Carles Sumarroca himself. The project was started in 1999.

The first vines, ten of each variety, were planted in a one-hectare vineyard. In 2004, 80 successfully propagated vines were vinified 40 white wines and 40 red wines. After a number of years of research, the most successful varieties will be selected for commercial batches. Today the plantings include Georgian Mtsvane and Rkatsiteli varieties, as well as several ancient Catalan varieties that have long been considered lost.


What wines could be called Sumarroca's flagships?

Catalan wine Sumarroca is known not only and not so much for its experiments, but also for its production of fine sparkling cava wines as well as quiet DO Penedes wines. The latter includes the Catalan wine Boria, one of the best red wines in Catalonia.

The winery owner's personal choice is the cava Núria Claverol. Incidentally, Núria Claverol cava, as well as Posidonia Rosado D.O. Penedés, is the top-selling Catalan wine. In total there are 12 sparkling wines and 19 traditional wines.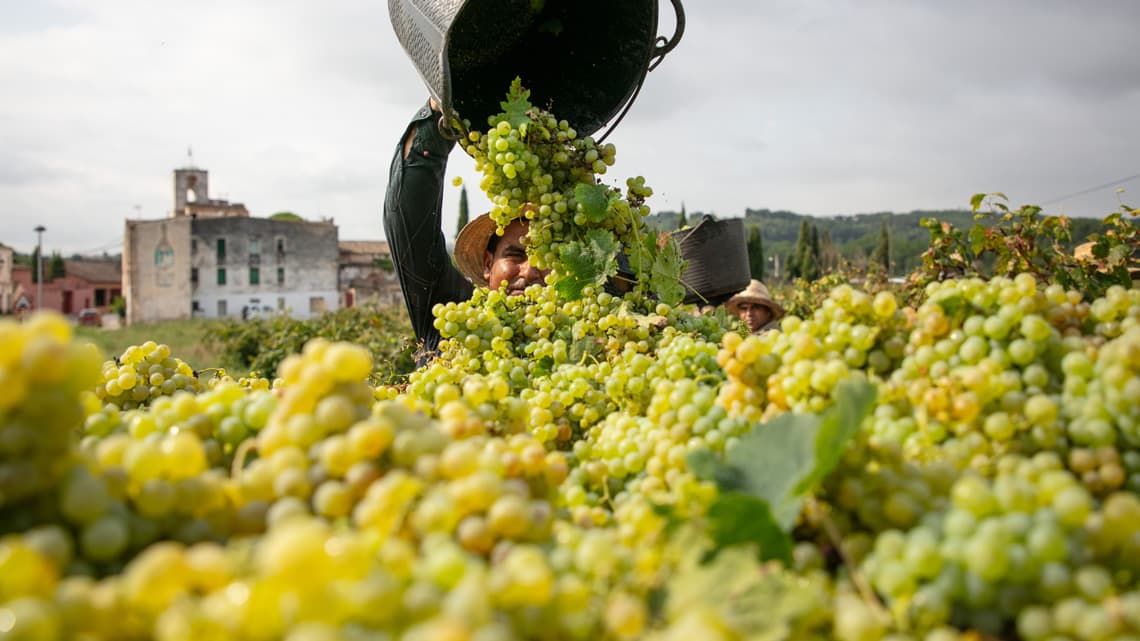 Catalan wine and Spanish winemaking in general

Spain is first in the world in terms of vineyard area, but only third in terms of production. This means lower yields and drier weather than in Bordeaux and Northern Italy.

On the technical side, Spain has better conditions for viticulture than Italy and France, especially for the production of red wines. The prestige of Bordeaux, for example, is not based on any particular soil, but on its glorious history and the high quality that the winemakers have produced since the very beginning.


Organised wine tour to the Penedes winery

Casamiga Events organises winery tours and itineraries during which you can learn about the history of the winery, learn about the production process and taste the latest vintages of both white and red wines.

In addition, you will have the opportunity to learn about the production process of traditional Catalan cava and to visit ancient cellars and see how Catalan wine is kept. There is also a wine tasting course where people sample a variety of wines from different grape varieties.

In addition to organised tours, we are always ready to offer our guests individual activities based on personal preferences. For example, we can organise a gastronomic dinner in the middle of the vines or in an old bodega.


Everything is very individual

We will never show the same thing to amateurs and pros. We don't sell winery tours, for us the most important thing is the emotions of the people who come to us. This is why we tailor each programme very responsibly and individually, so that it meets the client's needs and expectations.

Contact us to find out more about our wine and gastronomy tours in the Penedes and other.

Contact us to book your tasting day! Or email us, and we will tell you more about our programs: Penedes, Emporda, Priorat.